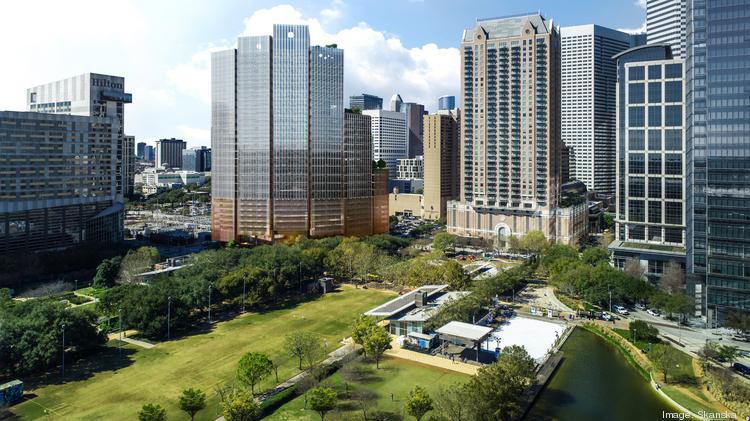 Skanska USA Commercial Development will soon build a 375,000-square-foot, 28-story office tower — dubbed 1550 on the Green — adjacent to Discovery Green in downtown Houston.
The Sweden-based parent company announced Jan. 13 that Norton Rose Fulbright, one of the largest law firms in Houston, signed on as the first tenant in the tower. Norton Rose Fulbright has more than 175 lawyers in its Houston office and currently is based in the Fulbright Tower, at 1301 McKinney St., part of the Houston Center complex downtown. The firm will relocate in 2024 and have naming rights in Skanska's new tower, where it will occupy 32% of the office space.
CBRE's Jon Lee represented the tenant in the lease transaction.
"Norton Rose Fulbright takes great pride in being part of the fabric of downtown Houston for more than a century," said Carter Crow, partner-in-charge of Norton Rose Fulbright's Houston office. "We are excited about this opportunity and look forward to our move into this modern and energizing space, where we will continue to provide first-class service to our clients and give back to this community that is so important to us."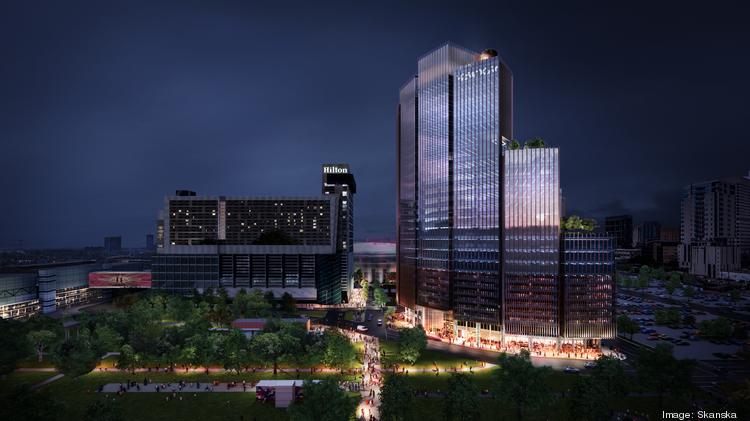 Skanska hired BIG-Bjarke Ingels Group to design 1550 on the Green, the international design firm's first project in Texas. It will be designed to achieve LEED Platinum certification. Architect Michael Hsu will design the interior amenity spaces, including a fitness center, rooftop event space and terrace on level 28 as well as community spaces throughout the property.
Skanska plans to announce the construction timeline after it receives all of the required permits.
Records filed with the Texas Department of Licensing and Regulation show that construction of the building at 1550 Lamar St. could begin as early as June 1, with an estimated completion date of May 1, 2023. The initial phase of the project is expected to cost $117 million, according to the TDLR filing.
The TDLR filing says the office tower was designed to include two basement levels of parking, six levels of above-ground parking, 20 floors of office space and a mechanical penthouse. There will be 7,000 square feet of ground-floor retail.
The office building is part of Skanska's larger plans for the Discovery Green area. In early 2020, the developer and BIG completed a master plan for a 3.5-acre mixed-use district called Discovery West, which will include restaurants, retail and green space. The companies worked with leaders from Central Houston Inc., Discovery Green, Bike Houston and the Kinder Foundation as well as several brokers.
"As an organization that prides itself on building what matters to our communities, our team, made up of Houstonians, has been working alongside local stakeholders to develop a plan and a building that will transform this side of downtown Houston while still meeting the needs of the city," said Matt Damborsky, executive vice president for Skanska USA Commercial Development's Houston market. "At 1550 on the Green, we look forward to welcoming Norton Rose Fulbright and creating a transformational development that embraces the surrounding greenery and the culture of downtown Houston."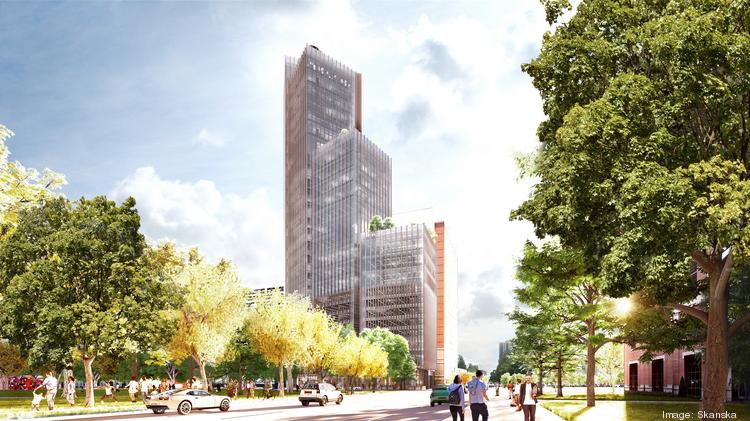 Skanska acquired the property for the then-unnamed mixed-use district in 2019. In a $55 million deal, the company assembled four parcels around Discovery Green that had been previously used as parking lots that were owned by MIPS Investments LLC and MIPS Parking LLC.
At the time, a spokesperson for Skanska confirmed that one of the parcels is a full city block bordered by Dallas, Lamar, LaBranch and Austin streets, with another just to the south and a third just to the east, wrapping around the Embassy Suites by Hilton Houston Downtown. There's also a small parcel in another adjacent block.
Skanska's Discovery West project is the latest in a series of recent high-profile Houston projects the company has embarked upon in recent years.
Just this week, Skanska confirmed it plans to demolish a key retail plaza in the Montrose area within the next six weeks, making way for a future mixed-use development.
The retail plaza, located at the southwest corner of Westheimer Road and Montrose Boulevard, had been home to Half-Price Books, Mattress Firm, Spec's Wine and Spirits, and Mattress Pro for several years. Half-Price Books recently revealed that location would close on Jan. 17, according to reports. Other tenants have also been moving out.
While Skanska has not yet finalized its master plan for the site, the company plans to clear the property in the coming months to allow for the development to begin moving forward, the spokeswoman said.
More details about the project will be released within the next few months.
Skanska is also the developer behind the 35-story Bank of America Tower downtown.
In December 2019, the company announced it had sold a 90% stake in the tower to an affiliate of Boston-based Beacon Capital Partners for $373 million.