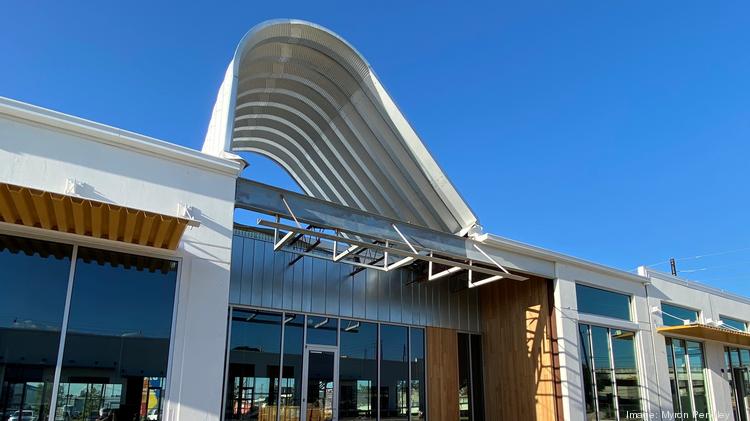 M-K-T, a massive mixed-use development in the Heights, finished core construction late last month and tenant build-outs are underway.
The project, at 600 N. Shepherd Drive, also announced a slew of new retailers for the space to join the already sizable list. The first location of Houston-based Tight Squeeze Juice Bar will join medical tenants Semper Laser, a laser hair removal clinic expanding into Texas; first-time office SMYL Dentistry; and the second office of Houston-based Focus Refined Eye Care. Semper Laser is expected to open in March, with the others slated for spring or early next year.
"Like Montrose, the Heights neighborhood is one of Houston's cultural landmarks," Dr. Bimal Patel, founder of Focus Refined Eye Care, said in a press release. "M-K-T will be one of the most vibrant places to shop, dine and work. I'm excited to bring this concept and vision to it."
Rakkan Ramen, a Japanese ramen restaurant opening its first Texas location in M-K-T, will debut in March.
"Houston has a great food scene and is incredibly diverse," said Rakkan Ramen CEO Chris Lav. "The vibe at M-K-T is laid-back and modern, it just looks like a great place to be happy."
Flower Vault, a floral-themed photography studio pop-up, will be among the first retail tenants to open at M-K-T, per the release. Local boutiques Common Assembly, June & Co., Anjouil's and Burdlife also are slated to open this fall.
Also underway are improvements to the Heights Hike and Bike trail directly north of the development. Those improvements include custom lighting, native landscaping, a hammock grove, wave deck and yoga lawn, all for public use. Pedego Electric Bikes will have its second Houston-area location in M-K-T.
In May 2019, M-K-T signed its first two tenants, Mendocino Farms Sandwich Market and Honeychild's Sweet Creams. The tenant list soon increased to include SmartVault, Elite Meals, Miller Grossbard Advisors, Da Gama Canteen, Rishi Hospitality, XCL Resources LLC, Homestead Kitchen & Bar, Heights Icehouse, Treadwell, Huemn, and Union Studio Yoga.
Additionally, construction permits indicate that La La Land Kind Cafe, a Dallas-based coffee shop and café, also is preparing to open a location in the mixed-use development. The cafe, which focuses on hiring those who have aged out of foster care, serves coffee and matcha drinks, as well as a limited food menu that includes toasts, overnight oats and puddings.
M-K-T's first office tenant — Miller Grossbard Advisors — moved into its new space in July. With the addition of Houston-based advertising agency Decode in August, the office portion was halfway leased leased. At the time, other office tenants were expected to take occupancy over the third quarter, with retailers and additional office tenants anticipated during the fourth quarter of 2020 and the first quarter of 2021.
Long Wharf Capital financed the project, and it was designed by Austin-based Michael Hsu Office of Architecture. M-K-T is a joint venture of Houston-based companies Triten Real Estate Partners and Radom Capital LLC along with Boston-based Long Wharf Capital. JLL's Russell Hodges, Bubba Harkins and Jenny Mueller are handling leasing for M-K-T's office space, while Christie Amezquita, Brittney Austin and Linda Rubiola with Shop Cos. are handling the retail leasing.
Triten and Radom teamed up in 2018 for the project to redevelop 200,000 square feet of industrial buildings. M-K-T contains 100,000 square feet of creative office space, 100,000 square feet of retail, an abundance of green space and a boardwalk-inspired gathering space around the Heights bike trails at North Shepherd Street and 6th and 7th streets.
Originally published on Houston Business Journal